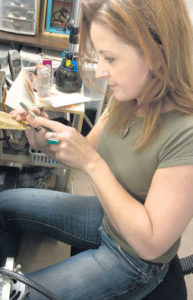 Hello and Welcome!
My name is Michele Grady and I create all the wonderful jewelry and accessories you will find on this site.
Here is a little about me…I am a self taught jeweler/silversmith and have been making jewelry for as long as I can remember, from stringing plastic and glass beads when I was very young to making clay pendants in pottery class when I got a little older. When I was 18 years old I started making metal jewelry, fell in love with it and never looked back. Silversmithing has become my passion for over 25 years. From teaching metalsmithing and precious metal clay classes as a certified instructor, to wholesaling and retailing my own work, it seems like jewelry has become my life!
Everything I make is handcrafted from sterling silver sheet and wire. I also use a variety of metalsmithing techniques to add color, shape and pattern to my pieces. In addition to the metal work, I also cut some of the stones that I use in my pieces as well. All of my jewelry items are created in my own personal studio and as a result all of my pieces are completely handmade.
Thanks so much for stopping by!
~Michele Grady
Michele Grady Designs