Etsy Metal Project Runway Challenge (Season 13 Episode 6)
I missed a few weeks of this Etsy Metal Project Runway Jewelry Challenge because I have been so busy but I couldn't skip week 6. The challenge was right up my alley plus I already had these earrings in the works!
The Project Runway challenge: Inspired by the new trend in nontraditional wedding dresses worn by rock stars on their big day, the designers must wow the judges with their own version of an unconventional wedding dress.
The Etsy Metal Translation: This week let's use the same parameters of Project Runway's challenge and also use inspiration from rock-n-roll weddings to create a unconventional wedding piece for a non-traditional wedding!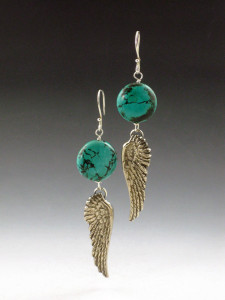 I made these earrings from white copper clay, turquoise beads and sterling silver to go with this necklace….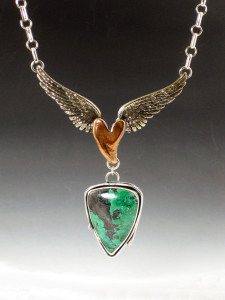 but they work great for this challenge too! To read more about the challenge and to see what other Etsy Metal members made check out the Etsy Metal blog post!