Etsy Metal Charm Swap 15
Every 6 months Etsy Metal holds a charm swap. Members sign up and everyone creates a charm to swap with each other. Everyone participating also makes 2 extra charms. One to be sold in the team shop as a charm and the other to be turned into a charm bracelet which is also sold in the shop but the proceeds go to a childrens art organization chosen by the members. This post is to show you the progression of my charms and how they were made….
Step 1: I have made molds from some carved stones that I would like to make into metal clay charms. I'm not sure what kind metal clay I will be using as of yet. They will be either made from copper clay, white copper clay or bronze clay…or maybe all of the above!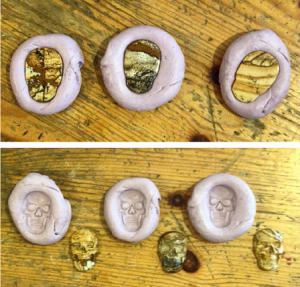 Step 2: I have used CopprClay to make little skulls from the molds I made last week. For those of you who know anything about pottery they are in the "greenware" state at the moment. Which means they have not been put in the kiln and are still soft enough to work like clay. I still have to let them dry a little more, clean them up and fire them in the kiln before they will become metal.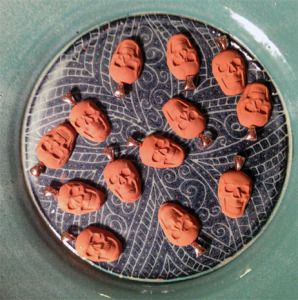 Step 3: I buried the the little skulls in a pan filled with carbon. I put the pan into the kiln and fired the pieces for 2 hours. When they are done they look like this:
Step 4: When they have cooled I removed them from the pan and oxidized them to bring out the detail.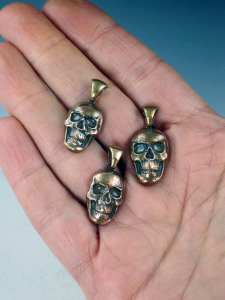 Step 5: After they are oxidized. I put them in the tumbler to polish them and then they are ready to go! I have this little charm on chain for sale in my Etsy Shop…. I can't wait to see what everyone else has made for this swap!